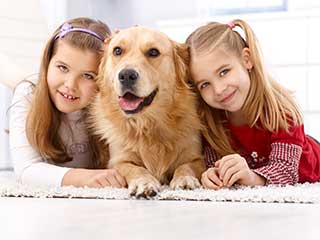 Pet Hair Dulling your Carpets?
Any pet owner will tell you that hair is a common, and persistent, problem throughout the household. Dogs have a tendency to shed their fur all over the place, whereas aggressive cats tend to leave tufts of fur scattered across your floors. Though frequent vacuuming is an essential part of any owner's life, this does not pick up all of the fur. It often becomes embedded within the carpet, creating a dull appearance as it continues to accumulate. Conventional means of cleaning are clearly not enough to remove the pet hair that becomes scattered throughout our homes, but that doesn't mean it's a lost cause. Our company offers effective carpet cleaning services that will lift all of that stubborn hair out and make it look like new again.
Stubbornly Sticking to Sofas
When you own animals that are permitted on furniture, it is never hard to tell where they have been. Cats especially have a tendency to select a favorite sleeping spot,which aren't hard to spot given the large clumps of fur that are always left behind. Sofa cleaning is an important part of maintaining longevity for your furniture and preventing early wear and tear, especially when they are being frequently used by furry companions. Our company offers services to combat the stubborn issue of shed fur, using reliable techniques and eco-friendly products that will thoroughly clean your couch of all that persistent pet hair that hides in every nook and cranny.
Unwilling to Remove Itself from Upholstery
Similar to sofas, furniture upholstery can experience a lot of wear and tear due to our pets, and are another hotspot for accumulated pet hair. In order to avoid the inconvenience of early replacement and repair, our company offers upholstery cleaning services that remove dirt and hair with ease. Using powerful cleaning solutions and high quality tools, our methods break up fur and foreign matter to ensure that your upholstery is thoroughly cleaned and returned to its original, hairless state. Our proven techniques ensure that not one strand is left behind, removing hair and other material from deep within the fabric and producing noticeable improvements.
Number One Service for Clearing Away Pet Hair
Whether you identify as a dog person or a cat person, pets are considered beloved family members that can make housework an absolute nightmare. That's why our expert team of cleaning technicians offer a variety of services that effectively remove all of that persistent fur from your carpet and furniture, meaning you don't have to sacrifice cleanliness in favor of keeping a much-loved companion.
Contact us at Carpet Cleaning Mission Viejo today to access our wide range of services.